The GPAS 2017 Winners has announced on January 29th, 2018. 7 ports and port authorities are from 5 APEC economies have awarded as APSN Green Port 2017 by review of the GPAS Experts Committee and approval of the APSN Council.

The APSN Green Port was presented to Bintulu Port,Malaysia, Chiwan Container Terminal Co., Ltd, China, Johor Port Authority, Malaysia, Port of Batangas, The Philippines, PSA Singapore, Singapore, Shekou Container Terminals Ltd, China, Tan Cang Cat Lai Port, Viet Nam.
Brief Introduction of Honorable Ports:
Bintulu Port began its operations on 1st January 1983. It is the largest and most efficient transport and distribution center in the Brunei Darussalam-Indonesia-Malaysia- Philippines East ASEAN Growth Area (BIMP-EAGA) region. Bintulu Port is an international port which is strategically located in North-East Sarawak along the route between the Far East and Europe. Bintulu Port is the main gateway for export of liquefied natural gas (LNG) from Malaysia. Besides, Bintulu Port also offers modern and state-of-the art facilities and equipment for the handling of containers, liquid and dry bulk cargo, and general cargo.

Bintulu Port
Chiwan Container Terminal Co., Ltd., founded in December, 1990, is a Sino-foreign joint venture specializing in container terminal loading and unloading services. Chiwan Container Terminal (CCT), located in Nantou Peninsula of Shenzhen in the west, on the east coast of the estuary of Pearl River, is the "maritime gateway" connecting the world with the Pearl River Delta Economic Circle, or even the hinterland of China. CCT is one of the three container terminals of Port of Shenzhen. Through many years of development, CCT has become an international professional container terminal with advanced facilities and perfect management. At present, CCT has established long-term cooperative relations with many shipping companies in the world, and more than 60 linear routes cover all major regions of the world. CCT, cooperating with partner companies, jointly develops and establishes "South China Public Barge Express" Network (original for Barge Express Network of Pearl River Delta), connecting many important ports and cities in the hinterland.

Chiwan Container Terminal
Johor Port Authority (JPA) was established on 1st January 1975 under the Port Authorities Act of 1963 and is the regulatory body for two major ports in Johor, Malaysia that are Johor Port, Pasir Gudang and Port of Tanjung Pelepas. JPA has developed the JPA Green Port Policy in year 2014. The policy serves as a guide for decision making and establishing a framework for environmentally friendly port development and operation. A part of our achievements in terms of Green Initiatives is been the first Port Authority in Malaysia to develop a Green Port Policy and Green Procurement Policy. JPA Building has been awarded for 3 stars rating for Penarafan Hijau JKR (pH JKR), which is one of the tool for Malaysian Green Building Rating. Besides that, we have established a Memorandum of Understanding (MOU) Signing Ceremony Between Malaysian Green Technology Corporation (MGTC) and Johor Port Authority (JPA) for Sustainable Project for JPA Building (2016-2018). We also had some sustainable projects. For the ports, we have successfully to develop Ship Emission Management System (SEMS) for estimate and calculate the emission from ships in line with MARPOL Annex VI.
Johor Port Authority
The Port of Batangas is located 110 kilometer south of Metro Manila, the Philippine's capital. It is established in Barangay Sta. Clara, Batangas City and has an area of about 150 hectares. With the port located in the area, the industrial capability of Batangas Province was further enhances. Batangas port is the center of transportation of goods produced in the hinterland primarily in Batangas province and serve as the strategic trading point for all industries in the CALABARZON Region of the Philippines. Agriculture products include cement, logs, minerals. Completely Built Units (motor vehicles) and other general cargo dominate the traffic while container traffic is continuously growing. The completed Batangas Port Development Project has two components: Phase I caters to domestic vessels and non-containerized foreign vessels while Phase 2 is dedicated for international container vessels.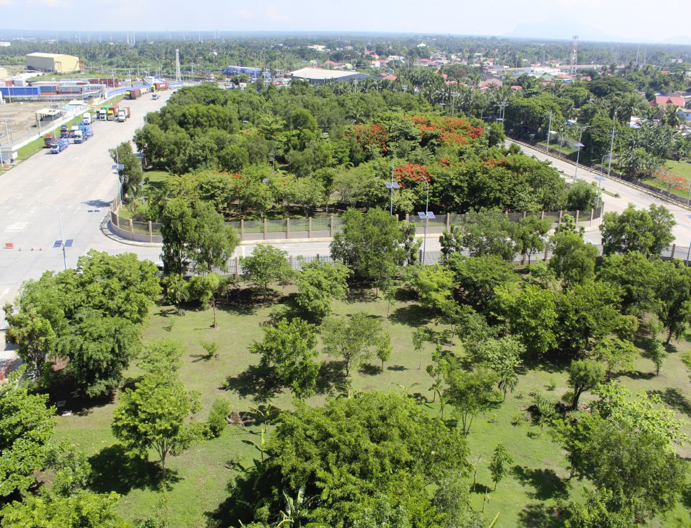 Port of Batangas
Located at the east bank of Pearl River in the Southwest Shenzhen City, Shekou Container Terminals (SCT) is a renowned ocean gateway for global shippers and carriers seeking access to and from South China. SCT operates a terminal area of 138 hectares, 9 mega vessel berths with length of 4090 meters, abound 110 weekly services covering major port worldwide. Taking advantage of its geographical location, SCT has developed seamless connection with ocean, river, highway and rail transportation network. In December, 2014, SCT was upgraded to a gateway of China free trade zone after being classified as China(Guangdong)Pilot Free Trade Zone by China central government. As the operator of China' s first "low-carbon demonstration terminals" appointed by the Ministry of Transport, it has received nationwide notice for its use of electric RTG crane fleet and Alternative Maritime Power.

Shekou Container Terminals
PSA Singapore, a fully-owned subsidiary of PSA International, operates the world's largest container transhipment hub in Singapore, linking shippers to an excellent network of major shipping lines with connections to 600 ports globally. PSA Singapore has the best energy sustainability practices among green ports, according to a recent Singapore government study. PSA maintains a strong commitment to green technology through projects ranging from solar power for terminal buildings to electrically-powered cranes and battery-operated automated guided vehicles. While progressively switching to cleaner energy sources, PSA continues to explore, evaluate and invest in applicable green technology.

PSA Singapore
Tan Cang – Cat Lai Terminal, located on Dong Nai River, is one of the key ports of HoChiMinh City's port system, under management of Saigon Newport Corporation – Ministry of Defense. Tan Cang - Cat Lai terminal has 160 ha. of yards, 2.040m of length of berth, able to received 45,000 DWT vessel (max 2,900 Teu); loading and unloading equipment and advanced management technology (TOPX and TOPOVN), is the largest and most modern terminal in Vietnam, in TOP 21 largest and most modern container terminal in the world. In 2017, Cargoes volume in Tan Cang - Cat Lai reached 4,462,868 TEU. The average annual growth rate at Tan Cang - Cat Lai terminal is 8.9%; with over 90% market share in the Ho Chi Minh City and nearly 50% market share in the country.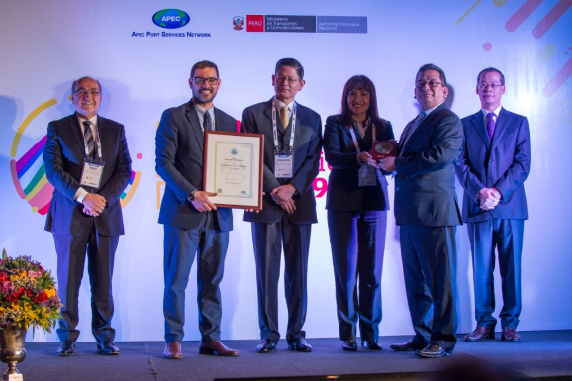 Tan Cang – Cat Lai Terminal